I'm always willing to promote other authors so I'm reblogging this.
doingsomereading
Cheryl Holt's WONDERFUL Now Available!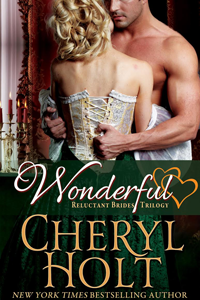 When love is the key and dowry the bait,
who can predict what a woman might do?
Cheryl Holt's "Reluctant Brides" trilogy concludes today with release of Book 3, WONDERFUL. The novels tell the story of three spinster schoolteachers who suddenly learn they've received dowries and have had marriages arranged for them. They travel off to wed husbands they've never met! Don't miss a single, sexy, yummy word!
CHERYL HOLT will leave readers cheering with the dazzling, sexy conclusion to her "Reluctant Brides" trilogy…
Evangeline Etherton loved her years as a teacher at Miss Peabody's School for Girls. But with Miss Peabody's passing, the school is shut down, and Evangeline is on her way to marry a fiancé she's never met. She never imagined herself as a bride and is reluctant to abandon the independent life she enjoyed as an unwed female. When she…
View original post 188 more words